35th Annual NRJE Conference
June 1 – 21, 2022
Free, open to everyone and virtual
This year, we have an opportunity to try a new format for the NRJE conference.  Based on the limitations presented by yet another COVID year we decided to take a different approach moving us beyond Zoom rooms (meant to look like conference rooms) and extend the conference beyond its usual one to two days.
To register, explore, and connect, follow this link to our conference website.  The website has more information about sessions, our new podcast, live events, and more ways to engage with your colleagues in the field.
Everyone is welcome and participation is free, but please register here to let us know that you're interested.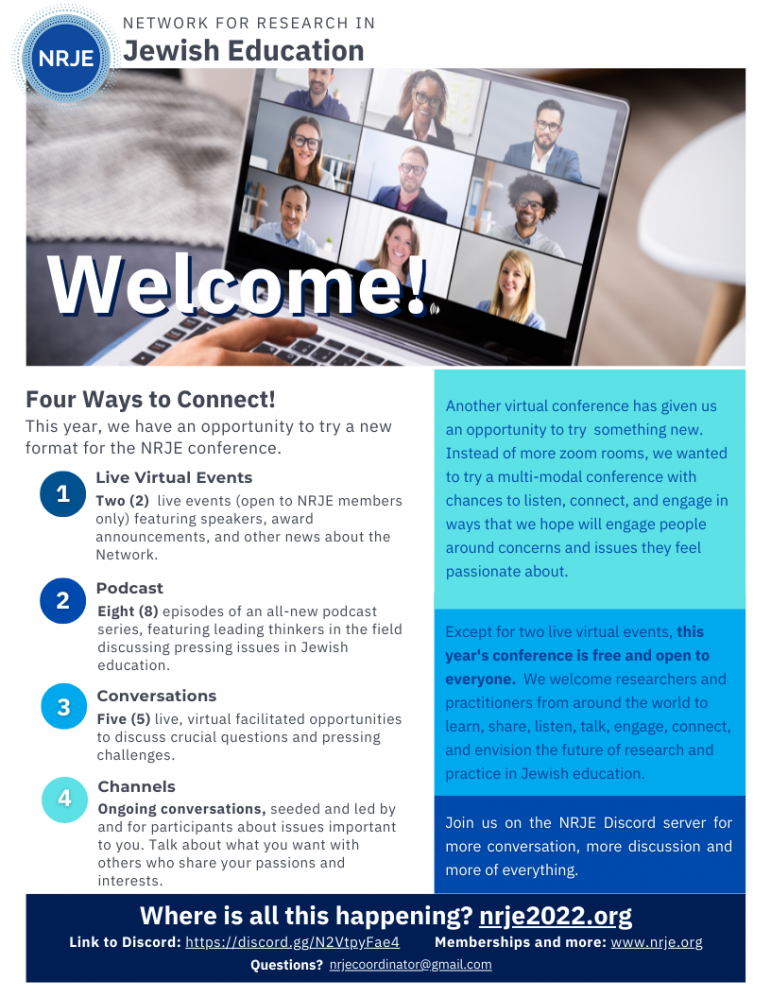 Please email Rabbi Melissa Stollman concerning all questions related to the conference. You may also contact NRJE Chairperson, Ari Y Kelman, with concerns and questions about the NRJE or the conference.
The 2022 Conference Chairperson is Josh Krug.
For information on past conferences, please click here.
Thank you to our generous supporters of the 2022 Conference:
The Jim Joseph Foundation
All of the members of the NRJE
Academic Partners:
The George Washington University
Hebrew College
Hebrew Union College-Jewish Institute of Religion
Jack, Joseph and Morton Mandel Center for Studies in Jewish Education, Brandeis University
Spertus Institute for Jewish Learning and Leadership
The Jewish Theological Seminary
Israel & Golda Koschitzky Centre for Jewish Studies, York University
The Concentration in Education and Jewish Studies @ the Stanford Graduate School of Education